3 Tips on How to Choose a Patio Doors for Your Home
Call us Today to Book a FREE in-home Consultation or to Visit our Display Centre.
Patio doors protect your home from the elements as well as any unwanted guests. When you have entry doors to your home, you also want them to look beautiful, as well as serve a purpose, and patio doors are no exception. It is possible to have a stunning patio door that enhances your backyard space while also serving its purpose to protect your home. Here are three top tips from Advance Windows on how to pick out what patio door works best for you.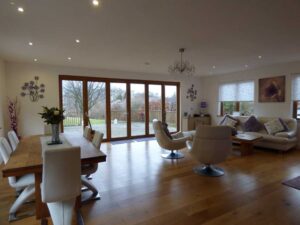 The Type of Patio Door
There are three main types of patio doors. Two-lite patio doors are patio doors that have two doors with one side fixed and the other side sliding. Within a two-lite patio door, there are two separate options. One option is to have a door that opens left, and the other option is to have a door that opens right. Another type of patio door is a three-lite patio door. This door has two fixed doors and one sliding door. There are four types of three-lite patio doors. One option is to have the middle door as the moving door, either left or right, with the doors on the edges being fixed. The other option is to have one outside door and the middle door fixed while the leftmost or rightmost door slides. The last option is a 4-lite patio door where the two middle lits slide outwards and the two sidelines are fixed.
Customization
Not every door frame is the same size but that does not mean you have to sit out having a great patio door. Our patio doors come in both standard and custom sizes. When you are thinking about what you would like your patio door to look like you also may want to think outside of the box. Getting the same cookie cutter patio door as everyone else. Getting a custom patio door will match your home better, upping its resale value, and giving you something beautiful that you can enjoy. There are incredible amounts of styles to choose from and having the creative freedom to tailor your patio door to your home is fantastic.
What Works for Your Home
What works for your home may not work for others. Keep in mind your home's layout when deciding on what kind of patio door you want. The direction your door opens is important, as is whether you have a two or three-lite patio door. You also need to keep in mind whether your patio door is going to be a main entrance to the home or not. If it will be somewhere that people are passing through every day then it needs to be sturdy and long-lasting. Depending on the sunlight you get in the area where your patio door is being installed you may also need to consider energy-efficient or windows that have UV protection built in because you cannot curtain off a doorway all the time.
There are so many options for your new patio door. No matter what size door you need or what style you prefer, the team at Advance Windows have the right product for you. Contact us today and let's get started!